Who's who? Including the girls!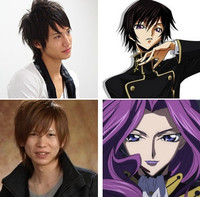 If you're a little overwhelmed by this morning's plethora of Code Geass related announcements, it's ok. I'm here to shed light on one specific thing, and that one thing is not the play, but the musical! The musical with the all-male cast, Code Geass Lelouch of the Rebellion -Majin ni Sasageru Prelude- ("Prelude for the Sorceror").
The plot takes place between Code Geass: Lelouch of the Rebellion and the second series, Code Geass: Lelouch of the Rebellion R2, although it sounds like the end of the musical overlaps a bit with the opening of R2. According to an interview with one of the producers there will be four or five songs, and it will incorporate some of the background music from the anime.
Interestingly, the script writer and director Kouichi Ogita used to direct all-female productions at the Takarazuka Revue.
As far as the cast goes:
Shinpei Takagi will play Lelouch Lamperouge
Fuuta will play Rollo Lamperouge
Kouhei Nakatsuka will play Suzaku Kururugi
Mio Akaba will play C.C.
Taisuke Wada will play Kallen Stadtfeld
Rui Sakiyama will play Kaname Ougi
Kento Ono will play Shinichiro Tamaki
Kazami Nagasawa will play Zero
Shun Mikami will play Euphemia li Britannia
TAKA will play Cornelia li Britannia
Toshimitsu Kodera will play Gilbert G.P. Guilford
Shingo Mori will play Diethard Ried
Yoshihisa Higashiyama will play Emperor Britannia


There are 16 performances planned for June 28th to July 8th at the Galaxy Theater in Tokyo. Ticket pre-orders begin February 10th.