Zombie treat joins snacks from Ace Attorney, Monster Hunter and more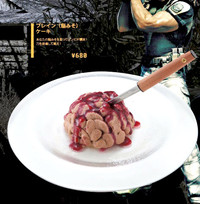 When the Shinjuku Capcom Bar was announced, one of the chief questions on everyone's mind was what themed goodies would make it to the menu, right? A partial lineup reveals a bounty of Capcom-related delicacies, but none more appetizing than the Resident Evil cake known simply as "Brain."
That's exactly what you get with this ¥680 (about $9) item and, as you can see below, it looks like it was plucked right out of a Licker's dome-piece. The description reads: "Zombies are targeting your brain. Equip the blade and fight!"
Other items from the menu include Ace Attorney pasta & rice, Monster Hunter allaculte & meat, and Sengoku Basara appetizer salad & soup. Is that a warrior's meal? Sure, why not? The Capcom Bar opens on January 25.
What do you want to order? I think I'll both start and end with some brains cake.
Via Andriasang