Publisher aims to raise $6,500 to release adult Tezuka work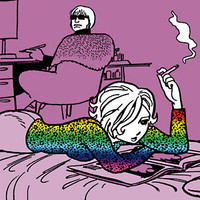 As part of its effort to accelerate the licensing and publishing of high-quality niche and classic manga in the United States, Digital Manga, Inc. launched a campaign on crowd-funding site Kickstarter to translate Barbara by Osamu Tezuka, an adult drama never before published in English. For the next 30 days, fans will be able to pledge in exchange for a variety of rewards, including copies of Barbara and exclusive bonuses. If the target total of $6,500 is reached by the deadline (February 12, 2012), production of Barbara will move forward.
The campaign follows a previously successful Kickstarter project to fund a new print run of another work by Tezuka, Swallowing the Earth, which made more than 220% of its goal in November and December. (New copies of Swallowing the Earth will be available through Akadot.com in February.) If the new campaign reaches its target, Barbara will be published under Digital Manga's DMP Platinum imprint in a large paperback, 5 7/8" x 8 1/4", the same size as Swallowing the Earth.
Additional bonuses include a digital companion to Barbara available exclusively to Kickstarter backers, a limited-edition Tezuka tribute poster with original art screen-printed by Two Rabbits Studios in downtown Los Angeles, and original T-shirts printed by Forward Printing in Oakland, CA. Final art for the posters and T-shirts as well as additional rewards will be posted on the Kickstarter page as the month progresses.
"Put simply, Barbara is the story of a man caught between artistic decadence and madness." - Osamu Tezuka
Barbara opens with famous author Yosuke Mikura wandering the packed tunnels of Shinjuku Station, where he makes a strange discovery: a drunk woman, her rags caked in mud, who can quote French poetry. Her name is Barbara. He takes her home for a bath and a drink, and before long Barbara has made herself into Mikura's shadow, saving him from egotistical delusions and jealous enemies. But just as Mikura is no saint, Barbara is no benevolent guardian angel, and Mikura grows obsessed with discovering her secrets, tangling with thugs, sadists, magical curses and mythical beings - all the while wondering whether he himself is still sane.