Available soon digitally, DVD and Blu-ray set for later this year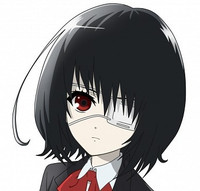 Recently added to Crunchyroll's streaming lineup, mystery-horror anime Another will also be joining Sentai Filmworks' stable this year. Sentai has announced plans to release the anime digitally "soon," with a DVD and Blu-ray release to follow later in 2012.
The 12-episode series is based on the light novel by Yukito Ayatsuji, which features illustrations by Haruhi Suzumiya's Noizi Ito. Another is directed by Tsutomu Mizushima (Blood C, Kobato, xxxHolic), with series composition by Moribito's Ryo Higaki, and character design adaptations by Persona - Trinity Soul's Yuriko Ishii.
Sentai's synopsis of the series:
Mei Misaki was cute, athletic and one of the most popular girls in her school. Why should a little thing like death change that? Now, 23 years after Mei's mysterious demise, a new transfer student discovers that not only is his school's student body one corpse short of a full roster, but that some secrets never leave high school. And what's more, all of this may somehow be tied into his own family past. What is the secret and how does it all connect? And even if Kouichi does figure it out, will that knowledge help save him? As the school bells toll a deadly dirge and students begin to die, things that were never properly buried come back to haunt the high school of the damned in ANOTHER!

It's only a couple episodes deep, but what are your thoughts on the series so far?