Out of 15 titles, which will win?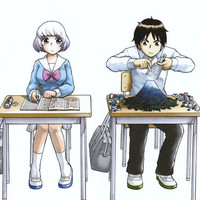 The fifth year nominees of the Manga Taisho (aka Cartoon Grand Prize) were announced today, and there are fifteen.
The Cartoon Grand Prize is organized on a volunteer basis by a committee of bookstore employees (people who sell manga) who want to recommend titles that they feel deserve recognition. Nominated titles must have no more than eight volumes. This is because longer series are probably already more widely known, and the longer a series gets, the more intimidating it is to pick up and try casually. This year's 15 nominees were narrowed down from an initial screening batch of 216...and here they are:
Hideo Suzuki, whose first name can also be read as "eiyuu" (= "hero"), is a struggling 35-year-old mangaka whose less than perfect world gets turned upside down by an outbreak of a strange disease that turns people into zombie-like cannibals in I Am A Hero by Kengo Hanazawa.
Takao Kasuga impulsively steals the track suit of the girl he likes, but the girl who sits behind him witnesses it and begins to blackmail him in Aku no Hana (Flowers of Evil). The first volume is due out this May in North America from Vertical.
Yuugo Hachiken loses confidence in his academic abilities amidst the competition and enrolls in an agriculture high school pretty much just to get away from his family in Silver Spoon by Hiromu Arakawa.
Natsunosuke Honda is a middle relief pitcher for a the Spiders, a pro baseball team, but the title of Yuuji Moritaka and Keiji Adachi's Gurazeni comes from the amount of money he makes—enough to cover the ground.
Masakazu Ishiguro's Getenrou follows a boy looking for erotic books, a space detective, a robot, and more eclectic characters who are tied together by their housing complex and the murder mystery that takes place there.
Kousei Arima was a piano prodigy until he became unable to play following the death of his mother, but Naoshi Arakawa's Shigatsu wa Kimi no Uso tells how his life brightens up when he meets violinist Kawori Miyazono.
Haruko Kumota's Shouwa Genroku Rakugo Shinjuu is the story of a discharged prisoner who decides to become a pro storyteller after being inspired by a performance in jail, but the master he has in mind does not accept apprentices...
In Ume's continuation of Tokyo Toy Box, Giga Tokyo Toy Box, game company Studio G3 accidentally hires Momo Momoda, a total n00b, as a graphic artist.
Unemployed geography PhD holder Harumi Takasugi ends up having to take care of a middle school-aged cousin, Kururi, after the girl's parents die in Nozomi Yanahara's Takasugi-san Chi no O-bentou.
Toshinari Seki comes up with all sorts of games to occupy himself during class and the girl who sits next to him, Rumi Yokoi, can't help but notice; the title of Takuma Morishige's Tonari no Seki-kun is a pun on the location of their desks.
Historical figures such as Shimazu Toyohisa and Oda Nobunaga are pulled into an alternate universe to fight opponents known as Ends in Kouta Hirano's fantasy, Drifters.
Haruko Ichikawa's collection of shorts includes the one from which the title is taken, 25ji no Vacance ("1 AM Vacation"), about a girl who takes a break from her deep sea research lab job to visit her brother and what happens when they go to the beach at 1 AM.
Through a bizarre series of time slip and other events in Ayumi Ishii's Nobunaga Concerto, normal high schooler Saburoo ends up living as Oda Nobunaga during the Warring States period while knowing he can't allow history to be changed by not uniting Japan.
Katsumasa Enokiya's Hibi Rock is about a kid who will somehow survive school, bullies, and not having a girlfriend as long as he has rock music.
Hoozuki no Reitetsu ("Cool-headed Hoozuki") is Natsumi Eguchi's daily life comedy about the king of hell's number one aide.
Winners in the past were Gaku: Minna no Yama, Chihayafuru, Thermae Romae, and Sangatsu no Lion. Which manga will get it this time? We'll find out in late March.
via Yaraon!