Masayuki Ozaki gives his perspective as someone also involved in the "Cowboy Bebop" live action project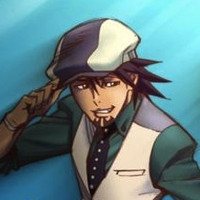 Tiger & Bunny producer, Sunrise's Masayuki Ozaki took to Twitter to elaborate on his thoughts regarding a live action film adaptation, perhaps as a follow-up to an interview where the subject was broached as a hypothetical. Translation follows below. We've taken the liberty of organizing paragraphs, but the first word of each new tweet will be a link so you can see the original Japanese:
"On Live Action Tiger & Bunny:
"These are my personal feelings as the producer. However, at this time nobody less than a Hollywood mainstay production studio could realize the vision I have. If we don't secure complete agreement on staff, cast, production scale, supervisory rights, etc then I don't intend to give permission.
"One of the main reasons to create a live action film would be to have a broad range of movie fans worldwide see it and give them a chance to get to know (watch) the original animation (to increase the number of fans of the original anime). For better or worse, a Hollywood movie is the medium with the most global appeal. Actually, I recognize that anime, for constant video media fans, is already itself an extremely appealing medium. For that reason, I think it's vital that we get as as many people as we can worldwide to watch the 25 episode TV anime and the currently-in-production theatrical films.
"As someone involved in working on the live action Cowboy Bebop project—a more than five year gap—I understand deeply that the journey to a Hollywood live action movie is unbelievably long. I also don't have the intention to actively appeal for a live action adaptation. Bebop was the same way, but only when I received an offer from excellent creators and producers with a love for Tiger & Bunny would it begin to be considered. I'd also need the sympathies of the people with whom I made the anime, such as director [Keiichi] Satou and [writer] Mr. [Masafumi] Nishida. Whether it's three years later or ten years later I don't know, but if it's the case that we become able to move forward on a live action project with a partner we can really trust, for existing fans and potential fans worldwide, I'm prepared to devote my full energy.
"That's it for these thoughts that constitute my own personal 'feelings' on a live action adaptation. As for a stage version, I have entirely different feelings and intentions from a live action film adaptation, so I think before long I'll formally compose some thoughts on that."
So there you have it. Who would you guys cast in a Hollywood Tiger & Bunny movie? Leave your dream team in the comments!
Source: @masa_ozaki via Yaraon!, ASCII interview via ANN
©Sunrise/T&B Partners, MBS