Bandai Namco, Image Epoch, and Satelight combine forces on PS3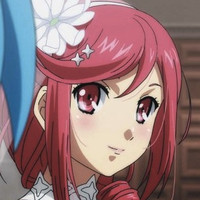 The official website is still just a teaser, but probably not for long. Bandai Namco's Toki to Towa has been revealed, and it's a collaboration between game dev Image Epoch (Luminous Arc, Fate/extra) and animation studio Satelight (who did the Macross Frontier movies) that results in hand-drawn character animation—and not just for cut scenes.
The story begins in Kamuza Kingdom, which was established via the marriage of a knight prince and a mage princess at the location pictured below:
Honestly, it looks a little foreboding for a marriage. However, Toki to Towa's protagonists have a seemingly brighter place to kick off their married life:
But of course if all of this went according to plan there wouldn't be a game to play, so something ends up going down...
The main character, played by Tsubasa Yonaga (Aichi Sendou from Cardfight!! Vanguard, Tsutomu Komano from Chihayafuru), is an 18 year old knight who has never even kissed a girl, but is still looking forward to what happens "after" kissing once he gets married. (Oy.)
The 16-year-old princess bride of Kamuza Kingdom, Toki, played by Kana Hanazawa (Mayuri Shiina from Steins;Gate, Nadeko Sengoku from Bake/Nisemonogatari), is alerted beforehand by a fortune teller that someone will raid the wedding.
So far that's all that has been revealed about the plot and characters, but the emphasis in this news is that it's not 3D graphics, but hand drawn animation through which the characters are displayed both in the field and in battle.
Famitsu teases that battle system details and more will be coming up in their next report. Toki to Towa is slated for release this year on PlayStation 3.