Next round: hairstyle battle with Paul vs. Guile--sadly no Fei Long for a Bruce Lee lookalike showdown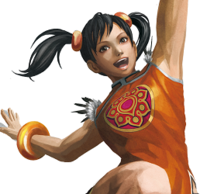 Yesterday's big six-character reveal for Street Fighter X Tekken didn't skimp on us--we not only got to see the newcomers in action in a gameplay trailer, but it also teased a titanic Devil Jin vs. M. Bison battle in a cinematic trailer!
Here's a handful of new screenshots and promo art showing off Shadaloo lieutenants Balrog and Vega, crazy S.I.N. agent Juri, schoolgirl Ling Xiaoyu, and best buds and get-rich-quick schemers Paul Phoenix and Marshall Law, all mixing it up with Street Fighter X Tekken's 36-strong cast!
Paul and Abel would be a pretty cool match-up of sorta-judo vs. sorta-sambo, but I'm a little sad that Fei Long isn't available on the Street Fighter side for the War of the Bruce Clones. What do you think? Anybody planning on Steve vs. Balrog, or Hwoarang vs. Juri to be their first match once they get the game?
via Shoryuken