Check out both battle and story scenes!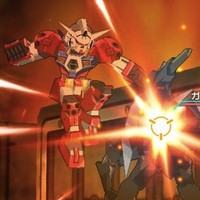 Level 5's Gundam AGE RPG, just like the TV anime, spans a hundred years and three generations; it also starts off with Flit Asuno. We're not sure yet how the transitions between parents and children take place, but it has been revealed that there will be sub-plots and some differences in the way things are portrayed that make the game different from the anime. Mobile Suit Gundam AGE is due out from Bandai Namco games this summer. Check out the latest screens below:
"Flit, you're late! Flit, you're late! Hurry, hurry!"
"The teacher got mad at you again? It's cuz you talk about the UE!"
"We Zaramu will also try to give you guys a hand."
"At last it's time to actually start up the Gundam. When you're ready, head to the hangar."
"I'll build a new weapon using the data Flit has collected on the UE so far! Emily, let's hurry to the AGE Builder!"
"Flit, this child seems to be lost, but apparently he knows you."
via Famitsu
©創通・サンライズ・MBS