Shinji Kimura's "Sable" mixes in some manga style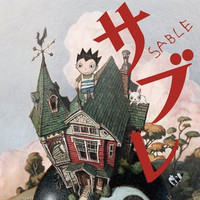 Fans of Steamboy and Tekkonkinkreet are probably aware that the art director for those films was Shinji Kimura, but did you know that he has also created picture books? His first project, Hipira (with Akira creator Katsuhiro Otomo), about a vampire who is friends with a fairy, was later animated as a winter vacation special. Could a similar treatment be in store for his new solo book, Sable?
The story is a fantasy about a boy who gets lost in a world on the other side of the TV set. The art style is sort of mashed up with manga, in that it's broken into panels. Character designs and other sketches from the creation process are included in the back of the book.
Shinji Kimura's Sable is 36 pages and listed on Amazon.jp for 1,575 yen (a little over US $20). Dark Horse Comics picked up Hipira for an English language release, so it's fair to speculate that they might go for this as well...
via Natalie