McDonald's Declares War By Lowering Price of McNuggets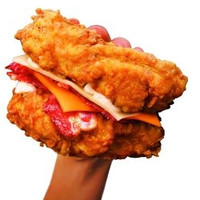 Having wreaked havoc across the USA last year, Kentucky Fried Chicken's infamous gut-busting Double Down sandwich is now poised to invade Japan on Feb/2. Photographic evidence below...
The 588 calorie behemoth has been rechristened the "Chicken Fillet Double" for Japan, but there's no denying the sight of those two fried chicken fillets, bacon, melted cheese, and the Colonel's "secret sauce" (listed in mayo in the autopsy above). It's a Double Down by any other name!
While the official roll-out won't happen until next Thursday, an evil-looking, all-black stealth KFC in Tokyo's Ikebukuro district is already selling it. You can see an artist's conception below, complete with what looks like the ghostly souls of those who previously died eating the Double Down coming back for seconds.
A certain hamburger loving clown -- Ronald by name -- is not taking this lying down. And so McDonald's across Japan have responded to the impending arrival of the 450 yen (US$5.78) Double Down by lowering the price of Chicken McNuggets from an average 250 yen (US$3.21) to a mere 100 yen (US$1.28).
The ever-vigilante Japanese media has taken a break from covering world politics and assorted national crises to analyze this impending fast food war.
Which side are you on? Double Down or dirt-cheap McNuggets?
Source: Japan Probe