Airing this April in Fuji TV's Noitamina block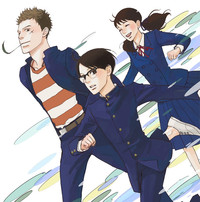 Staff for the spring Noitamina (Fuji TV) anime Sakamichi no Apollo has been announced and fans of Cowboy Bebop should hold on to their socks. The official website is also streaming a promo video:
Shinichirō Watanabe (Cowboy Bebop, Samurai Champloo) will be directing, and handling the music is Yoko Kanno (Cowboy Bebop, Genesis of Aquarion). Watanabe is known for being a director fixated on music, and if you remember the soundtrack to Cowboy Bebop, you know this is a dream team to handle a story that revolves around jazz music.
Yuki Kodama, the artist of the Shogakukan Manga Award winning original work was quoted, "I've been blessed with the best staff—to the point where when the anime adaptation of the manga was announced I could have sworn there was no such thing as such a luxurious combination. I'm so happy my heart could burst. I'm just waiting to see what kind of visual and musical collaboration they have in store for us."
Director Watanabe commented, "Actually this is the first time I'm doing an adaptation. When I read the manga, I thought, 'This is something I should do.' I'm making it with the feeling of having jam sessions with Kodama-sensei and leveraging the distinct flavor of the manga."
Yoko Kanno had this to say: "In youth, jazz. This is the work I had been waiting for the most. By all means please listen to the sounds of these young prodigies performing that I can hear from the manga, the beat of their life. "
Other staff includes:
Script: Ayako Katou (from Fuji TV), Yuuko Kakihara (Chihayafuru, series composition for Persona 4)
Character Design: Nobuteru Yuuki (Maken-ki!, To Terra)
Chief Animation Direction: Yoshimitsu Yamashita (House of Five Leaves)
via Natalie