Major characters from Capcom and Namco Bandai added to the roster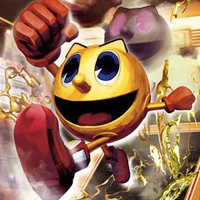 The official Street Fighter X Tekken blog announced two new characters, but they're not ones you would expect to see duking it out with Street Fighter and Tekken fighters:
The Japanese blog presents readers with a nugget of Mega Man knowledge, namedly that he is called Mega Man overseas. You know his Japanese name is Rockman, right? They're using the Western name because the character that appears in Street Fighter X Tekken is based on this no doubt familiar and strange box art:
"Argh, but why did it end up being this kind of design? It's a complete mystery," the blog post laments.
Check out the latest trailer, which shows a bunch of the PS3/Vita exclusive characters, including Mega Man and Pac-man:
The Capcom blog has another video showing off Mega Man and Pac-man's special moves.