First K-pop appearance on a major American talk show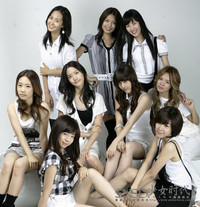 Next week will be a historic one for American K-pop fans. Superstar group Girls' Generation will be on The Late Show with David Letterman January 31st, then Live! With Kelly on February 1st. According to their agency, "Girls' Generation is the first Korean band to appear on a mainstream talk show on a terrestrial TV channel in the U.S."
The group will perform the title track off their third album released worldwide last year, "The Boys."