Premieres February 3rd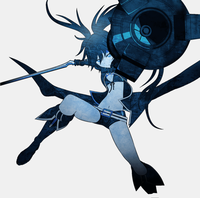 Niconico Douga parent company Niwango has announced that Black Rock Shooter on TV will be streamed subtitled in 8 languages "worldwide" on Niconico Douga. The subtitles will be available in English, French, Italian, German, Spanish, Korean, Traditional Chinese and Simplified Chinese to the regions listed below:
English: USA and Canada
French: France, Belgium, Switzerland, Andorra, Monaco
Italian: Italy
German: Germany
Spanish: Spain, Mexico, Chile, Argentina
Korean: South Korea
Traditional Chinese: Taiwan
Simplified Chinese: China, Singapore
Episodes will be streamed each Friday at 11pm JST (9am EST, 6am PST) for one week starting on February 3rd. The series premieres on noitaminA on February 2nd in Japan. Episodes will be available via the Black Rock Shooter Channel on Niconico Douga.
Sources: Saishin Anime Jouhou, AV Watch
Image ©BRSonTV