PreCure decorated room, character goods, cosplay photo session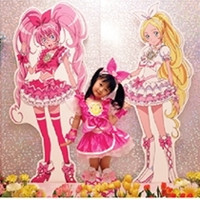 Ikenotaira Hotel in Nagano, Japan, has announced their successful special room plan featuring the popular anime series PreCure/Pretty Cure for three consecutive years. The hotel started offering this plan in 2010 with the PreCure series of the year, Heartcatch PreCure! The guests can stay in the room decorated with the characters and symbols from the PreCure series, and can take home many PreCure goods as souvenirs. Even free PreCure Cosplay photo session is included in the plan (only for kids).
PreCure goods you can take home are:
・handkerchief
・canteen
・toothbrush
・cup
・drawing bag
・chopsticks
・spoon
・fork
Thanks to the popularity of the series, the plan has been very successful. According to the press release,
5,641 people stayed in the PreCure room featuring the eighth series Suite PreCure♪ last year. This year's
plan featuring the newest series Smile PreCure! will be offered from March 10 to December 28. The prices
are from 12,000 yen (US$155.70) to 26,000 yen (US$337.35) for adults, and 6,000 yen (US$77.85) to
18,200 yen (US$236.14) for kids. Enjoy your vacation in the PreCure world!
Source: Press release
© ABC/TOEI Animation