TBS films yearly chocolate onsen event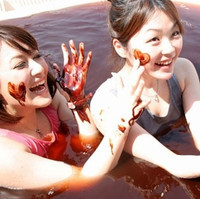 Couples and families can hang out in a chocolate hot spring together in time for Valentine's Day:
A hot spring theme park in Hakone, Kanagawa started a chocolate bath ahead of Valentine's Day next month on February 14th. In addition to enjoying the smell and color of this chocolate bath, you can expect a moisturizing and beautifying effect on your skin from the perspiration-inducing caffeine etc. included in the water, so it's especially popular for girls.
Bathers painted chocolate sauce on both their faces and bodies and enjoyed a "sweet moment."
The resort offering the chocolate bath (through February 29th), Yunessun, also does red wine, green tea, coffee, and sake "flavors."
Source: TBS News via Hachima Kikou