12 episodes series animated by Sunrise and directed by Seiji Mizushima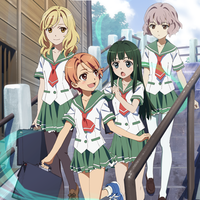 At the production presentation for the series earlier today, it was announced that the 12 episode everything-Sphere original anime, Natsuiro Kiseki will be premiering this April in Japan. It was also announced that, unsurprisingly, Sphere will be doing both theme songs as well as the image song for the series. The CD with the opening and ending themes will be released on April 25th. Lastly, it was announced that an official photobook will be released before the series airs with more details to follow.
The series is being animated by Sunrise with Seiji Mizushima directing and voice actress unit Sphere voicing all the main characters.
Source: @natsuiro_kiseki via Yaraon!
Image ©Natsuiro Kiseki Production Committee