I think it shows that even "Mr. Megaman" likes to mess with his fanbase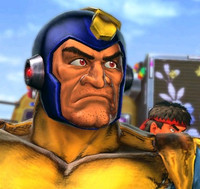 I've been a Mega Man fan since 1987. From getting curbstomped in the first two games on the NES, to his goofy appearance in Captain N, all the way through the insane NES sequels and the hilariously dark-and-serious X series and more, I've been a supporter of the Blue Bomber and his crazy Astro Boy-inspired adventures.
It is with that deep-seated love for the character in all its incarnations that I welcomed the idea of "Bad Box Art Mega Man" making an appearance alongside Pac-Man in the PS3 and Vita versions of Street Fighter X Tekken. As I've gone into ridiculous detail about before, Mega Man is not a dark and serious tale of robot warfare and redemption, so seeing this goofball, his beer gut and his laser pistol show up to tussle with the baddest of the bad from Street Fighter and Tekken (and... Infamous, I guess) is not only hilarious, but refreshing.
Street Fighter X Tekken producer Yoshinori Ono was recently asked on Twitter about why he chose this version of Mega Man to be in the crossover fighter. In his usual playful way, he responded:
"I consulted with Mr.Megaman(his name is Mr.I…) about it 1 years ago.Its result! ;D"
So it appears that the creator of Mega Man, Keiji Inafune, was one of the conspirators geniuses behind this outrage best thing ever.
Just to be the cool guy that he is, Ono also mentioned that we'd get some "regular" character announcements soon. Hmm... there was a certain DELICIOUS dictator who we only saw in a story cinema last time... but that's the easy guess.
What do you think? Is all of Capcom dead-set on trolling Mega Man fans, even the series' creator? Or are they (as mentioned before) just a bunch of crazy, fun-loving Osakans?
via Shoryuken