Animated feature due on DVD and Blu-ray in spring 2012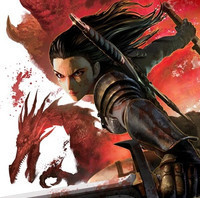 EA, BioWare, and FUNimation are working with Vexille director Fumihiko Sori and studio Oxybot to produce an animated feature based on Bioware's Dragon Age games. dragonagemovie.com has relaunched with a look at the making of Dragon Age: Dawn of the Seeker.
The anime feature was pushed from 2011, to a Spring 2012 release. the first battle scene from Dragon Age: Dawn of the Seeker will be shown on Monday 1/30 at 6:30pm ET exclusively on G4 TV's "X-Play."
Dragon Age: Dawn of the Seeker -In the land of Orlais, where battles are fought with swords and magic, a young heroine rises as templars, mages, and dragons clash. Cassandra, a brash and beautiful Seeker, must stop a conspiracy that threatens the realm's most powerful religious order, the Chantry of Andraste.

Accused of treasonous crimes and hunted by friend and foe, Cassandra must clear her name and overcome her raging emotions in order to save the day and take her place in legend.