Maybe he'll bust some heads over the live-action "Akira" film debacle!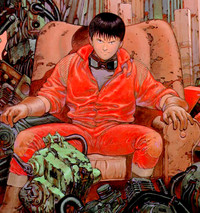 Most of those headed to San Diego Comic-Con 2012 already have their passes and travel booked, and they'll be glad they did so. The final list of special guests has been revealed, and it includes Akira creator Katsuhiro Otomo.
The full description lists many of Otomo's achievements, from Akira—in both manga and animated form—to his upcoming illustration book, Kaba 2. With the luminary appearing at such a Hollywood-centric gathering, here's hoping he'll also knock some sense into those behind the currently-stalled live-action Akira adaptation.
Either way, Katsuhiro Otomo is certainly a huge addition to an already typically loaded guest list. SDCC takes place at the San Diego Convention Center from July 12-15. Anyone attending this year?