Park opens alongside life-sized RX-78 on Odaiba Island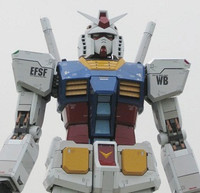 One of Tokyo's most noticeable anime attractions is the life-sized RX-78 Gundam statue on Tokyo's Odaiba Island. While the statue itself is already a great celebration of the legendary Mobile Suit Gundam franchise, a new attraction named Gundam Front Tokyo will open next to the statue, which is currently being rebuilt.
While the 22,000 square-foot "entertainment space" will have free areas to check out including a display of Gundam models throughout the series' history and a Gundam Apparel Shop, paying the 1,000-yen admission fee (about $13US) will grant you access to a 52-foot-wide hemispherical dome theater for "immersive videos," a look at rare production materials, an archive counter offering information on Gundam projects, and "photospots" allowing you to take pictures with characters.
In addition to an official character goods shop, the second Gundam Cafe will be on the second floor of the attraction.
Right, so here's my itinerary: see if they're playing Char's Counterattack in the dome theater, hit up the archives counter to see if they're making a sequel to G Gundam, and get dragged to the photospots so my roommate can take squealing fangirl pictures with Zechs and Treize, and I can take a squealing fanboy picture with Master Asia.
What do you think? Would you make a stop at Gundam Front Tokyo if you had the chance?
via ANN