Mobacolle x Eva Nekomimi Hoodies join stylin' NERV sweats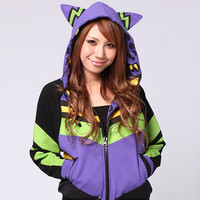 The Evangelion Store and its UN Nerv Wear line has begun outfitting those who'd like to dress like they're training for the "NERV secret military agency." Hoodies (¥13,440 / $175), track shirts (¥13,440 / $175), sweatpants (¥10,290 / $134) and trunks (¥9,240 / $120) are being made to order through February. The apparel is available in orange, gray and black, with shipping planned for May.

And, if you'd like to look a bit cuter, pre-orders are being taken for reversible Nekomimi (cat-eared) Mobacolle x Eva hoodies ahead of their March release. The purple, yellow and red variants sell for ¥7,245 ($95) in women's sizes and ¥5,145 ($67) in kids'.
via @eva_fan