"Cool, fast-paced, story-driven, surprisingly exciting"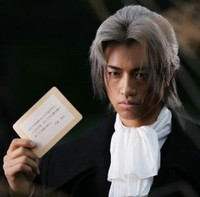 The stakes are unbelievably high for the upcoming big budget movie adaptation of the Ace Attorney game.
For starters, it is based on the wildly popular video game for the Nintendo DS. Also, it is the latest film directed by Takashi Miike, a talent whose work can veer wildly from flat-out masterpieces (like 13 Assassins) to erratic minor works (Sukiyaki Western Django). Maybe that's why Phoenix Wright fans around the world are chomping at the bit to find out if the two and a half hour movie will actually be any good!
Even though the Ace Attorney live action movie won't open in Japan until Feb. 11, it had its world premiere last Friday at the International Film Festival Rotterdam. Ard Vijn, writer for film blog Twitch, saw it and has delivered the first full review.
Selections from the review below (possible spoilers)
"The first press screening earlier in the week left many reviewers dissatisfied, some angry even, and there were people saying the film was disastrously crap. Yet at the paying public's World Premiere, the atmosphere was very different. The crowd ate it up, gamers and non-gamers alike."
"For those fearing Miike Takashi has lost it or has had his unique brand of insanity buried under mainstream expectations, think again."
"The future aspect of the story gets gleefully used and abused to set up all sorts of visual gags and implausible machinery. As for having his characters stay rigidly close to their in-game counterparts, Miike opted for caricature and has everyone hamming it up for laughs...But despite the spoofy approach the drama surrounding these characters still gets treated with a lot of respect, and the film retains a lot of heart because of that."
"Ace Attorney looks expensive and cool, is fast-paced, story-driven, surprisingly exciting and above all: immensely entertaining."