Sega is also selling "Puyo Puyo" attire and charms for the occasion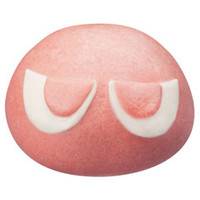 Following in the footsteps of the Slime monster shaped meat buns produced to tie into Square Enix's Dragon Quest, Sega is marking the 20th anniversary of the Puyo Puyo puzzle game series with steamed buns based its cute blobs.
The Puyo buns, produced by Imuraya Co. are available at Coco!, Family Mart and Odakyu Mart, and like the slime buns have been selling out.
Sega is also selling Puyo Puyo attire and charms to celebrate the anniversary.