To utilize Ninja skills in modern society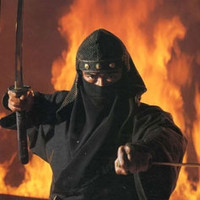 Mie University, a national university in Tsu-city, Mie Prefecture, announced on January 31 that Jinichi Kawakami, the 21st head of the Koga Ban Ninja family, has become a specially appointed professor since last December. The 62 year old martial artist has been known as "Last Ninja" in Japan. He works on "Ninjutsu Study" to research Ninja's special knowledge and skills at the university's research cooperation center.
Kawakami started learning Koga-ryu Ninjutsu under the instruction of the last head of the family at the age of six and inherited the 21st position when he was 18. He now runs a Ninjutsu training school called "Banke Shinobi no Den Kenshujo" in Fukui and also has worked as the honorary director of the Iga-ryu Ninja Museum in Mie. The university has requested him to promote the traditional Ninja culture originated in Mie Prefecture. For the present he will not give a lecture on
Ninjutsu in order to concentrate on his research works.
Kawakami (second from the right) and his students
Source: Chunichi Shimbun
Kawakami and his students photo © Banke Shinobi no Den Kenshujo
"Kage no Gundan" photo © KTV/Toei