STUDIO DEEN's 49-episode series set for digital and DVD release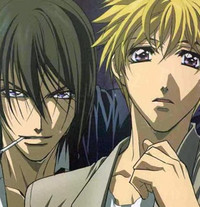 If you've been missing the action of GetBackers, Sentai Filmworks has a treat for you. The company announced the license of the 49-episode series today, with plans to release it digitally soon, and on bilingual DVD later this year.
The STUDIO DEEN-produced anime features series composition by Akemi Omode (Rurouni Kenshin, Kyo Kara Maoh!) and character designs by Atsuko Nikajima (Hakuoki, You're Under Arrest).
Sentai's synopsis, via press release:
Whether it's a favorite stuffed animal, a priceless painting or even your last shred of hope, if someone's taken it from you, Ban and Ginji will get it back. They're the Get Backers, an expert "recovery" service. And they'll retrieve what's been stolen, no matter what it is or who took it. Of course, with Ban's special "Evil Eye" and Ginji's lightning strike capability, they've got a head start on the crooks. No job is too big, no job is too small. At least not until they pay off their tab at the local coffee shop. It's 49 episodes of non-stop action. It's the Get Backers Complete Collection – don't let anyone take yours!
Any GetBackers fans here looking forward to Sentai's upcoming release?