Nine idols to also sing sci-fi anime's theme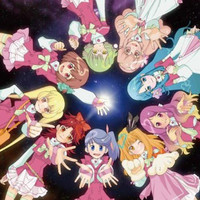 Following a public audition, a cast for AKB0048, the sci-fi anime based on pop idol troupe AKB48, has been selected. Members include Ishida Haruka, Iwata Karen, Sato Amina, Sato Sumire, Nagaya Sayaka, and Watanabe Mayu from AKB48, Hata Sawako and Yagami Kumi from SKE48, and Mita Mao from NMB48. The cast will also sing the anime's theme.
Aida Orine – Nakaya Sayaka (AKB48 Team A)
Ichijo Yuka – Sato Amina (AKB48 Team B)
Kanzaki Suzuko – Hata Sawako (SKE48 Team KII)
Kishida Mimori – Sato Sumire (AKB48 Team B)
Shinonome Kanata – Ishida Haruka (AKB48 Team B)
Shinonome Sonata – Yagami Kumi (SKE48 Team S)
Sono Chieri – Watanabe Mayu (AKB48 Team B)
Motomiya Nagisa – Iwata Karen (AKB48 Research Student)
Yokomizo Makoto – Mita Mao (NMB48 Team M)
General director (and Macross co-creator) Shoji Kawamori commented, "Before the casting auditions, I had an idea of which member would suit which role to a certain extent. However, after having them try out different roles and putting them into groups of four to practice dialogues, I began to see new possibilities. The staff as a whole had lots of heated debates, and finally decided on this cast."
AKB0048 is a science fiction series that takes place in the 21st century. In this alternate universe, a war breaks out and forces mankind to leave the Earth; under such circumstances, entertainment becomes heavily regulated and the idol groups slowly die out. Yet one idol group, called 'AKB0048′, is determined to rise up and live free lives.