Couples sized "Volcano of Love" and "Rocket of Love" parfaits offered with Kitty pin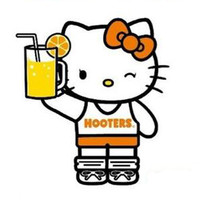 It's not exactly the first spot that comes to mind for a romantic Valentine's Day date, but, through February 14th, Hooters Tokyo is offering a pair of jumbo couple's sized parfaits. To sweeten the deal, the first 1,000 customers will receive a free Hello Kitty x Hooters pin (also available for sale).
The "Volcano of Love" parfait is being offered for 2,400yen ($30) and the smaller "Rocket of Love" is being offered for 850yen ($11).
Are things so tough out there that Kitty has to work at Hooters to make ends meet? Well, at least she's serving hot wings and beer...
via @debaoki and @Kukumi_Devil