Series to hit digitally soon, bilingual DVD later this year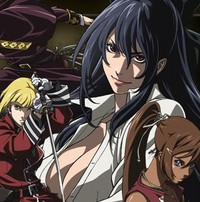 Sentai Filmworks' latest acquisition is The Book of Bantorra (Tatakau Shisho), a 27-episode series based on the light novels written by Ishio Yamagata and illustrated by Shigeki Maeshima. Sentai is planning a digital release soon through multiple outlets, with a bilingual DVD release scheduled for later this year.
Black Butler's Toshiya Shinohara directs the series, which features character designs by Masaki Yamada (Tiger & Bunny, Appleseed: Ex Machina) and music by Yoshihisa Hirano (Death Note, Broken Blade). Bantorra was also adapted into a manga by Kokonotsu Shinohara.
Scope Sentai's scintillating synopsis:
In another time and place, on a world of pain and sorrow, when someone dies, their soul doesn't go to Heaven or Hell – it becomes a book. A book that reveals the deceased's innermost secrets… and can be read by anyone. Protecting these priceless treasures is the elite organization known as the Armed Librarians. It's their job to keep the books and the knowledge within them safe from those who would misuse or destroy them. It's a tough, dangerous job, so Chief Librarian Hamyuts Maseta recruits only the best and the brightest psychics to join her team of expert fighters. But will they be good enough to stop the fanatics of the Church of Drowning in God's Grace from wrecking vengeance on the entire world? Only time will tell, but that book hasn't been written yet. Welcome to the Library of Bantorra, where the past is an open book.