Who needs baseball when you have god slaying among your pastimes?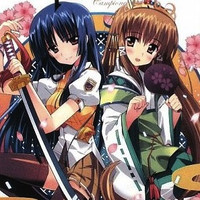 The anime adaptation of Jou Taketsuki's light novel series, Campione! (illustrations by Sikorsky), got its cast today.
Godou Kusanagi - Yoshitsugu Matsuoka (Sandaime from Bodacious Space Pirates, Arei from Lagrange: The Flower of Rin-ne)
Erika Blandelli - Youko Hikasa (Rias Gremory from High School DxD, Nobara Yukonikouji from Inu x Boku SS)
Liliana Kranjcar - Eri Kitamura (Karen Araragi from Bake/Nisemonogatari, Sayaka Miki from Puella Magi Madoka Magica)
Ena Seishuuin - Yuka Saitou (roles in Shakugan no Shana III (Final), Mayokichi!)
Yuri Mariya - Kana Hanazawa (Mayuri Shiina from Steins;Gate, Nadeko Sengoku from Bake/Nisemonogatari)
Campione!'s story follows high school baseball player Godou as his post-injury athletic career begins to entail slaying gods after getting involved in some trouble with his Italian "lover," Erika. The 11th volume of the light novel was just published last December. So far there is no air date info for the anime.
via Yaraon!