First anime with new characters in 25 years, first promo image for 3DCG film also posted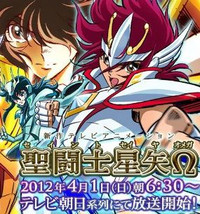 For all of you hardcore Saint Seiya fans out there, Toei up and made everyone's day today with the confirmation of a new TV series airing this April in Saint Seiya Omega. The series will be the first all new TV anime for Saint Seiya in 25 years and is not based off of Masaki Kurumada's epic manga, instead featuring a brand-new cast of characters headed up by new leader Kouga.
Preliminary production info on the new TV series consists of Morio Hatano as director, scripting by Reiko Yoshida, animation direction and character designs by Yoshihiko Umakoshi. In addition, Toei released the first teaser image for the forthcoming 3DCG film adaptation of the Saint Seiya franchise, with the film still slated for release, but with no confirmed date.
Keiichi Satou is directing the CG film while Tomohiro Suzuki is writing the screenplay. The film is listed as the new "Masami Kurumada Project" and credits him with the original story for the film.
---
Humberto Saabedra is the Editor-in-Chief of AnimeNews.biz, PhoneNews.com and an occasional columnist for Ani.me. He can also be found musing on his favorite 2D girls at @AnimeNewsdotbiz.