If it's 16cha, you'd think there would be 16 straps, but we'll take six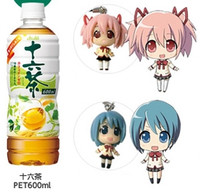 Puella Magi Madoka Magica is teaming up with Juurokucha (aka 16cha as in their website) to offer cute figurine phone straps at Lawsons convenience stores in Japan:
"If you collect all of us, we'll be so happy!"
There are six types to collect and all you have to do to get one is buy a bottle of 16cha. The promotion runs February 7th until whenever they run out of merch.
via Otakomu