At least they don't have to enter the Mortal Kombat blood code...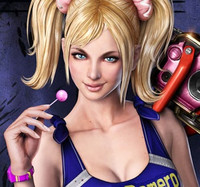 Kadokawa Games has a solution for the over-the-top violence in Grasshopper Manufacture's upcoming zombie-slasher, Lollipop Chainsaw. Japanese gamers will be able to adjust the gore to their delight… if they purchase the Premium Edition.
As revealed in this week's issue of gaming mag Dengeki PlayStation, the standard version comes slapped with a CERO D rating. CERO D is one step below CERO Z, the rating hardcore titles like Grand Theft Auto receive in Japan, so fans who want to see all Lollipop Chainsaw has to offer will want to upgrade.
The Premium Edition will allow players to toggle between the D- and Z-rated gore, which one would assume lets the blood really fly.
Pricing and other bonuses included in the Premium Edition have yet to be announced, but both that and the Standard Japanese edition will include the option of English and Japanese voice-overs.
Via Andriasang