The most expensive figure ever?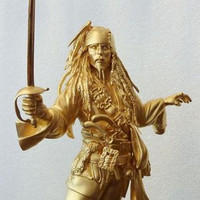 Kurotani Corporation, a Japanese arts and crafts company based in Toyama, has started accepting orders for figures of Jack Sparrow in pure 24K gold on February 8. Jack Sparrow is, of course, the protagonist of the Pirates of the Caribbean film series played by Johnny Depp.
This gold figure is 26 cm tall and weighs 1,800 grams. The price is 36,000,000 yen (approximately US$467,000). The company will produce only three. The purpose of the figure is to promote their casting techniques, they said. As far as I know, this is probably one of the most expensive figure ever. Do you want to add it to your collection?
© Disney Enterprise
© Kurotani Corporation