Is there anything that Hello Kitty is not collaborating with this year?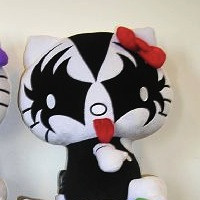 Sanrio announced a new Hello Kitty collaboration with the American rock band Kiss. It sounds like Gene Simmons is so pumped about it he wants to sell the plushies at concert venues:
Top left to right: Paul Stanley and Gene Simmons
Bottom left to right: Originally Ace Frehley (currently Tommy Thayer) and originally Peter Criss (currently Eric Singer)
Kitty masquerades as each of the four members of the band, down to Gene Simmons's long tongue. Apparently the front man tweeted about the deal last June, but it has taken till now to see the results of their collabo. Besides plushies, keychains, accessories cases, and more merch is being planned, but there is no pricing or street date as of yet.
Source: Sports Houchi via Hachima Kikou
Update: Added tweet link/info.