Tomonobu Itagaki ♪doesn't wanna miss a thiiii-iiing♪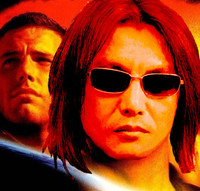 How do you feel when you hear Aerosmith's soaring ballad "I Don't Want to Miss a Thing," from Michael Bay's sizzlin' flick Armageddon? Former Team Ninja head honcho Tomonobu Itagaki (Ninja Gaiden, Dead or Alive) wells up with emotion, because it reminds him of the time Tecmo tricked him and almost caused him to quit making games.
Itagaki hasn't been in the spotlight as much since he left Tecmo and started his independent game studio Valhalla, but he had a lot to say in his speech at the annual DICE Summit. He spoke of his and Team Ninja's race to port Dead or Alive 2 to PlayStation 2 in a tight two-and-a-half-month time frame in order to get the fighter ready for the platform's launch.
With the deadline looming, the company's general sales manager approached Itagaki and asked if he could borrow a copy of Dead or Alive 2 to play. However, rather than playing the game, Itagaki says the disc was "taken into a factory for production on that day without me knowing it."
Thus, Tecmo released an unfinished version of the game in Japan, made a "huge profit" off the team's work, and sent Itagaki into a deep depression that almost caused him to quit making games.
Itagaki spent the next three or four months at home in a stupor, drinking and watching Michael Bay's Armageddon over and over. Living what he referred to as a "stupid life," he would sing along to Aerosmith's "I Don't Want to Miss a Thing" with his three-year-old daughter. Itagaki said of the experience, "If I close my eyes now and recall Armageddon, tears still come out."
Eventually he went back to work, and Team Ninja released Dead or Alive 2: Hardcore, resulting in the game they wanted to put out all along. Could he have done it without the power of Steven Tyler and Michael Bay, though? Itagaki has the answer:
"No matter what anyone says, Aerosmith and Armageddon were the ones who saved my life, my company, my friends and my family."
Via Game|Life