If you were planning on giving chocolate shaped like hearts, you've been defeated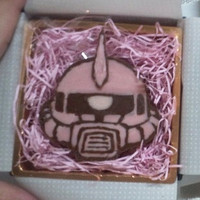 Itasha, itaita—how about some itachoko? Otaku designing deco-chocolate is not a new phenomenon, but we happened across a few fine examples in the run up to Valentine's Day. Really, what better time to painstakingly handcraft candy in the image of your loved one's favorite characters or logos? Time for a lesson from Japanese anime confectioners:
See how melted chocolate is applied to the wax paper stencil? A little food coloring goes a long way in white chocolate!
"ItaChoko is thin and easy to break, so spread a ton of white chocolate on top." And there is the finished product after refridgeration!
Here are some others by the same artist:
Today a new project appeared, claiming inspiration from the above Frieza:
When making a 3-D mold, an important trick to use when you run out of baking pan metal clasp to bend (!!!) is to finish off the task with a bento divider.
Details in choco-colored choco, but of course Char's Zaku is red!
"I did it!!!!!!!!!!!!!!! He's bald, but freshly made!"
Look how well the layers came out!
Finally, if you want to see a really exciting (No, really!) video of ItaChoko (including the NERV logo from Evangelion) being made fresh for this Valentine's Day, look no further:
Have any of you guys ever attempted feats of chocolatiering such as these?
[UPDATE] Here's some more from Puella Magi Madoka Magica: