Donate your blood for the Valentine chocolate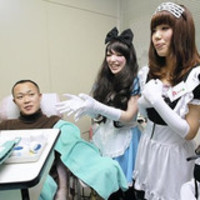 The declining number of young blood donors has been a serious problem in Japan. So, what kind of service can attract young Japanese the most? Of course maid cafe! Japan Red Cross has turned a blood donation room named "Bara" in Fukuyama-city, Hiroshima, into a maid cafe for two days only on February 13 and 14.
Just like normal maid cafe, four young maids wearing a white apron over a black and sky blue one-piece dress treat the donors as masters and mistresses at the waiting room. They serve drink and sweets for free, and even cast a special moe spell "Moe Moe Gyu~." to the donors. These maids are the students of Anabuki medical college in the city. They were trained in Akihabara, the mecca of maid cafe, for this event.
61 people donated their blood yesterday, the number was 1.5 times more than usual. February 14 is
Valentine's Day, so the maids present a chocolate wrapped by themselves to all of the donors.
The flyer
Photo © Yomiuri Shimbun
Photo © Chugoku Shimbun
Source: Yomiuri Shimbun, Chugoku Shimbun, Official blog