Get some DLC with your fries, play it with greasy fingers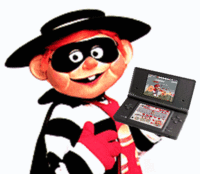 McDonald's in Japan has a special treat lined up for those who like both body-clogging burgers and Nintendo DS and 3DS games. Over the next four weeks, gamers will be able to nab free downloadable content for both portable platforms at the fast-food chain.
Among the content offered are four DLC packs for Slime Mori Mori Dragon Quest 3 on Nintendo 3DS, and an original game called Slime Ship Battle DX for DS and 3DS. Anyone who manages to beat the latter game will receive a McDonald's coupon for their effort.
Via Gamasutra