PSP dating sim for girls set during Taishō period gets animated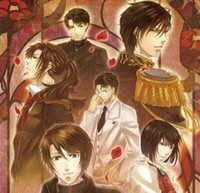 The original cover for the April issue of Enterbrain's B's-Log magazine was home to an announcement revealing an anime of Hanayaka Nari, Waga Ichizoku. The cover has since been replaced, but we now know that an animated adaptation of Idea Factory's PSP dating sim is on the way.
Hanayaka Nari, Waga Ichizoku is an otome game (a dating sim for the ladies) that follows Haru Asagi, a girl who works as a maid for the Miyanomori family during Japan's Taishō period. When the head of the family announces his retirement, it's up to one of his six sons to take his place, so you can imagine where the dating prospects arise.
We'll have to wait for more information on the adaptation of the 2010 PSP title, but what better day to have visions of dating powerful successors dancing in your head?
Via ANN