Film originally released by Manga Entertainment and Urban Vision in the early 90's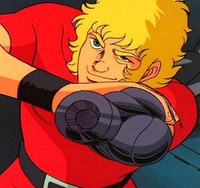 Discotek Media continues its streak of classic anime license rescues with the confirmation of the forthcoming release of the 1982 Space Adventure Cobra feature-length film which was the precursor to the 1983 TV series of the same name.
The film is adapted from the manga of the same name which was serialized in Weekly Shonen Jump from 1978-1984 and tells the story of a mild-mannered office worker that does not realize who he is until a visit to a center where dreams can be experienced triggers a series of events that leads to him discovering that he is the titular Cobra. The franchise is also slated to become a live-action film under the direction of Alexandre Aja.
The movie is slated to be released this August on DVD and Discotek has not discounted a release on Blu-Ray provided that the DVD release does well enough to justify the additional expense. Finally, while the DVD will feature an English dub, it's not known whether the new release will feature the Manga Entertainment UK dub or the Urban Vision US dub, both of which were highly acclaimed during their respective releases.
For those that are curious, you can actually watch the Space Adventure Cobra sequel series here on Crunchyroll to see what makes older anime fans like myself excited for this new re-release. Since we're on a bit of a retro kick following the Hello Kitty Maxell parody, have the Matthew Sweet music video for "Girlfriend" using scenes from the movie as a backdrop:
---
Humberto Saabedra is the Editor-in-Chief of AnimeNews.biz, PhoneNews.com and an occasional columnist for Ani.me. He can also be found musing on his favorite 2D girls at @AnimeNewsdotbiz.