Stars Masaki Okada from Otomen and Juryoku Pierrot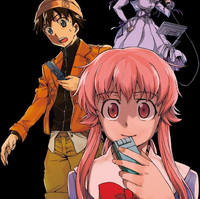 Fuji TV has announced that a drama based on Sakae Esuno's Mirai Nikki (The Future Diary) manga will be premiering in their Saturday night drama slot starting in April. Titled Mirai Nikki -Another:World-, the drama will star Masaki Okada (Otomen, Juryoku Pierrot; pictured below) in the survival game of diarys that tell the future. However, he will not be playing as Yukiteru Amano, but as a brand new diary user named 星野新太, possibly read as Hoshino Arata.
The drama is first entry in the "revival" of Fuji's Saturday night drama block which will feature shows with a primary target audience between mid-teens and 30's.
Update:
Mainichi's Mantanweb has additional details about the story and staff. The script is written by Yuusuke Watanabe who also wrote the script for the Gantz and 20th Century Boys movies. The themes for the show will be those of the manga: "destruction and regeneration" and "the ultimate love." The plot line is an original story about a lethargic college student played by Okada, who keeps a diary and doesn't believe in the future or effort. Through his diary, he gets dragged into the survival game, and while he used to run away all the time, through his experiences, he eventually decides to attempt to survive till the end.
Source and photo: Sanspo via Yaraon!
Image ©Sakae Esuno, Kadokawa Shoten / 12人の日記所有者たち
Update 2: Additional details and photo. Update 3: Added story details