Talent from "Inu x Boku SS," "Kimi to Boku," and more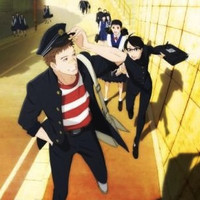 The latest news about Cowboy Bebop and Samurai Champloo director Shinichirō Watanabe's new project, Sakamichi no Apollo, is a listing of key cast members:
Kaoru Nishimi: Ryouhei Kimura (Yuuki Asaba from Kimi to Boku, Shouma Takakura from Mawaru-Penguindrum)
A freshman who is bit closed-off due to his repeated school transfers growing up. He begins to open up a bit when he meets Sentarou. He has known classical music all his life, but begins playing jazz piano as well...
Sentarou Kawabuchi: Yoshimasa Hosoya (Nezumi from No. 6, Renshou Sorinozuka from Inu x Boku SS)
A rough 'n tumble freshman feared as a "notorious bad boy." Tall, cheerful, and pretty strong as well, he is the opposite of Kaoru, but they begin to bond when he shares his favorite music, jazz. He plays the drums.
Ritsuko Mukae: Yuuka Nanri (Saori Chiba from Wandering Son, Erika Takakura from Lagrange: The Flower of Rine-ne)
A childhood friend of Sentarou. Bright and kind-hearted, she has freckles and is a classmates with Kaoru and co. She's the poster child of Mukae Records, and everybody (including her dad!) jams in the store's basement studio.
Yurika Fukahori: Aya Endō (Chitose Ayase in Chihayafuru, Emily Armond in Gundam AGE)
Sentarou helped her out once by chance, so they became friends. She's a year older, a member of the art club, and from a "good family," however she has a lively and curious personality. She meets Junichi, a college student, via Kaoru and co...
Junichi Katsuragi: Junichi Suwabe (Seiji Matoba from Natsume Yūjinchō, Tsunenaga Tamaki from Deadman Wonderland)
Sentarou looks up to him and nicknames him "big brother Jun." He's been friends with both Sentarou and Ritsuko since they were kids. He attends Tokyo U, but makes sure to stop by Mukae Records and jam with his pals when he comes home. He plays trumpet.
Check our earlier post (with the trailer) for other staff info. Sakamichi no Apollo airs as part of Fuji TV's noitaminA block starting this April.
Source: MyNavi News via Jam Guru
©小玉ユキ・小学館/「坂道のアポロン」製作委員会