Adaptation of "Unlimited Blade Works" scenario coming to digital soon, DVD/Blu-ray later this year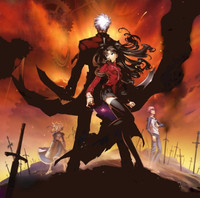 Sentai Filmworks has announced the new license of Fate/stay night: Unlimited Blade Works, the movie adaptation of the "Unlimited Blade Works" scenario from Type-Moon's Fate/stay night series.
TV series director Yuji Yamaguchi (Strawberry Eggs) returns to helm this theatrical endeavor with a screenplay by Takuya Sato (Inu X Boku SS). Original character designs are by Takashi Takeuchi (Canaan, Garden of Sinners) and music is by veteran Kenji Kawai (Ghost in the Shell, Eden of the East). Sentai Filmworks' release will feature an English dub produced by Bang Zoom! Entertainment.
From Sentai's description:
Having spent the last ten years of his life studying under a mysterious sorcerer, Shiro Emiya has become a Magi, a sorcerer who has summoned a "Servant," a mystical female warrior of incredible power named Saber, to stand together in the ultimate test of sorcery and magic: the Holy Grail War. But Shiro's own feelings for Saber may conflict with their goal. For to win the contest means to take the risk of losing everything, even as he also begins to empathize with members of the rival battleteams. For while seven teams will enter the battle, only one will leave, and the winners will receive the prize of the Grail itself and their greatest wish granted. Will that wish be worth the price Shiro must ultimately pay? The battle is on in Fate/stay night: Unlimited Blade Work!
The feature will be available digitally soon, with a home video release on DVD and Blu-ray scheduled for later this year.