"Dead or Alive" loses one of its series hallmarks, but gains respect in the process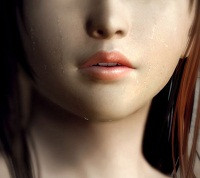 Dead or Alive is losing one of its most memorable and important elements as a series. This loss may very well change the way people view the series, and takes away what makes DoA, well... DoA!
I am of course referring to Dead or Alive being jam-packed with scantily-clad nubile young women engaging in fights one step shy of wrestling in vanilla pudding, or occasionally taking a break from martial arts duels in destructible environments to play some volleyball, or race jet-skis, or take part in Butt Battles.
Those days are over, says Team Ninja head Yosuke Hayashi. In an interview with Gamasutra, Hayashi outlined how in the early days, Team Ninja's games were heavily focused on sex and violence. Much like how Ninja Gaiden 3 is making players consider the consequences of violence in its own way, Dead or Alive 5 aims to treat female characters as more than just objects to drool over.
"We've always had the sex factor in the game; in the past, the female characters had to have big breasts, they had to have scanty dress. In DoA 5 especially, we're trying to focus on the real women that surround us; the voice of a female, the mannerisms. We are being realistic about it.
"In the series up to now we focused on some kind of... Sports Illustrated [aesthetic]. like a magazine for high school kids, with women portrayed in that sense. But that's not what we want.
"We want to show something that's more high class, that adult males of our generation could look at a [female character] and be impressed with her as a woman, not just as a pin-up. That's what we wanted to tell our fans."
I'm totally with Hayashi on this. The most memorable female characters in games may be traditionally attractive, but they also feel like actual people, like Celes in Final Fantasy VI or Zoey from Left 4 Dead.
With all the hype surrounding crossover fighter Street Fighter X Tekken, Hayashi has expressed interest in a similar crossover for Dead or Alive, but with DoA's inspiration and the original 3D fighting game, Virtua Fighter.
"In terms of collaboration titles, there are staff on our team who just love fighting games and if there was any chance to do that we'd actively, possibly do that.
"The first 3D game I played was Virtua Fighter, that's the IP I respect most. Virtua Fighter was the father of 3D gaming, so it's very well respected."
Virtua Fighter has never had the flash of Dead or Alive or the crazy chain combos and juggles of Tekken--instead, it's an almost frustratingly hardcore experience requiring pinpoint timing and accuracy for the small windows you're able to counterattack in. It would be an interesting contrast to Dead or Alive's casual-friendly gameplay that allows you to counter even while stunned from critical attacks, but up until recently the games' three-button controls (P, K, G) have been identical.
Dead or Alive 5 will use a new control scheme to focus on this new game's shift to "fighting entertainment," and seems to have adjusted controls for counters (holds), making them far less of the low-risk/high-reward tactic they've been since the series' early days and making them require more precision.
That's a lot to take in, but it looks like even with weirdo genius Tomonobu Itagaki gone, Team Ninja knows what to do with its titles. In fact, I'd say they're in better hands than ever. What do you think?
via Gamasutra, Edge, Siliconera