thatgamecompany's mysterious semi-cooperative adventure draws near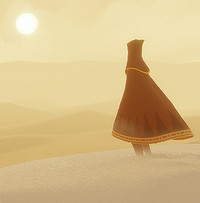 If you've been following the development of Journey, the next game from thatgamecompany (flOw, Flower), you'll be happy to know that its spring 2012 release window has now been narrowed down. Journey makes its way to PlayStation Network on March 13.
According to thatgamecompany Creative Director Jenova Chen's post on the PlayStation blog, development on Journey is complete, and it will retail for $14.99 when it kicks off PSN's "Spring Fever" event next month.
Though it's probably best to go into Journey knowing as little as possible about the game, you can grab some tidbits of what to expect via part of Chen's explanation and the official trailer below.
With each game we create, we want to bring something truly unique and authentic to the user. We want our players to experience something they have never felt before. Our first game for PSN was flOw in 2007, a meditative zen video game haiku. We followed that in 2009 with Flower, our video game version of a poem about the tension between urban bustle and natural serenity. Journey, our third game, is an interactive parable, an anonymous online adventure to experience a person's life passage and their intersections with other's.