Cooperative play revealed for Namco Bandai's Straw Hats action game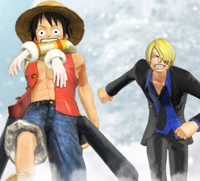 One of One Piece's strongest themes is friendship, so it would seem appropriate for Namco Bandai's One Piece Pirate Warriors (One Piece Kaizoku Musou) to include cooperative play. This month's issue of V Jump magazine is revealing just that, so get ready to team up with your buddies and shed many a manly tear when the game hits PlayStation 3!
If simply reading about the good news of co-op isn't enough for you, here's a snap of the back of the box for an extra Oda-style ドン!!
The box also lists a 4,400 MB install, Trophy support, rumble support, and chat support.
My personal reaction was something like this:
V Jump also reveals the mighty fish man Jinbei as a playable character, and that Pirate Warriors will be getting a lot of costume DLC, which should come as no surprise. Who's ready to team up with some friends on the sprawling journey to becoming king of the pirates?
One Piece Kaizoku Musou hits Japan on March 1. As previously reported, Namco Bandai has registered the Pirate Warriors trademark in the United States and Europe.
Via Andriasang