Wouldn't you like a massage from Host Takashi?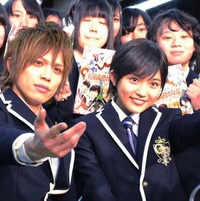 What kind of shriek would go screaming past your thumping heart if the cast from the upcoming Ouran High School Host Club live action movie unexpectedly appeared bearing flowers? The answer became known to the girls of Shinagawa Etoile Girls High School in Tokyo yesterday, when Haruna Kawaguchi, Yusuke Yamamoto, Masaya Nakamura, and Shinpei & Manpei Takagi surprised them after a screening of the spin-off drama Ouran High School Host Club ~Haruhi no Happy Birthday Daisakusen~ in their music room.
The school had previously held a survey to determine what services the girls would like to receive if there were a host club there, but surely none of them ever dreamed they'd have Masaya Nakamura massaging their shoulders. Nakamura was quoted at the event, "I guess it makes sense cuz it's an all-girl's school, but I was surprised there were no mens restrooms! I had to go use the one in the faculty office!" Meanwhile his castmate M. Takagi said, with a smile, "Let's not spread Host Clubs only in Japan, but throughout the world! Today please return home feeling healed." Yamamoto made sure to throw in a word for the film opening [in Japan] March 17th, "The movie is even more dynamic and interesting than the video you just saw. Please be looking forward to it!"
Source: Eiga.com via Tokyo Hive