PONPONPON Fanta Soda Promotion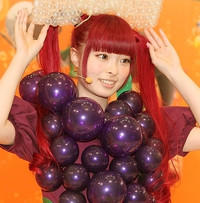 Harajuku girl Kyary Pamyu Pamyu, singer of the immortal YouTube hit PONPONPON, faced her greatest challenge ever when a campaign event for Fanta soda pop saw her facing off against ex-sumo wrestler champ Akebono Taro in a daring air hockey match of wits.
On Feb. 16, in celebration of new packaging for all three Fanta soda flavors in Japan, Kyary donned a striking new outfit that would make the Fruit of the Loom guys green with envy, complete with grape top and orange shorts.
The main order of discussion between Kyary (age 19) and Akebono (42) revolved around HEIGHT. Kyary barely stands upright at 5'2", while the former sumo champ towers over most at 6'8". This disparity was enough to make Kyary comment, ""He's really huge, huh! Out of anyone I've met he's the biggest." To which Akebono replied, "But you've only been alive for 19 years…"
The issue of height again continued to plague this "More Fanta More Team Play Air Hockey Team Formation Event" as the pair faced off in combat using GIANT PADDLES AND PUCKS. Although Akebono won the air hockey battle against Kyary, his height was considered beyond the bounds of the rules and the decision was reversed so that Kyary won.
The other topic was Kyary's love life. Even though the Japanese tabloids are reporting that she's been inviting hunky actor Kotani Shotaro over for sleepovers of late, Kyary told the press at the Fanta event "I spent Valentine's Day home alone this year eating pizza."
Gee, I wonder what manner of fizzy beverage she washed it down with?